Where Your Money Goes
Your tax-deductible financial contribution helps Free Geek get technology into the hands of people like Kayla. Kayla is a high school student who never had a computer at home. Every one of her school assignments was painstakingly typed onto her smartphone. When asked the first thing she was going to do with her Free Geek computer, she responded without hesitation: "Write my report for class!"

In addition to creating access to technology, your contributions help to fund our free community education, technical support, and volunteer programs. Even small donations can go a long way in getting technology and technical education to someone who needs it.
Manage Existing Monthly Donation
If you've already set up a monthly donation to Free Geek and you want to change your email address, billing information, monthly donation amount, or anything else, use the link below to cancel your current monthly donation.

Once your current monthly donation is canceled, you can create a new one with your desired changes.

Click Here to Cancel your Monthly Donation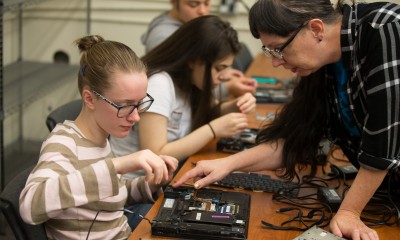 Give by check
We also accept donations by check. If you'd prefer to contribute by mail, please send your payment to:

Free Geek
1731 SE 10th Avenue
Portland, OR 97214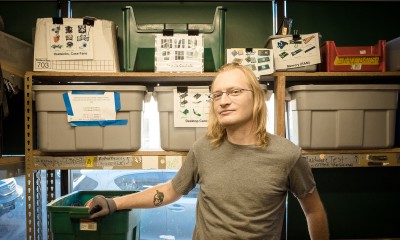 Donate technology
In 2016 alone, Free Geek gave more than 42,000 items of technology back to the community. We couldn't have done it without donors like you. You can rest assured — we take care to ensure that any data-bearing devices are handled according to strict data security guidelines.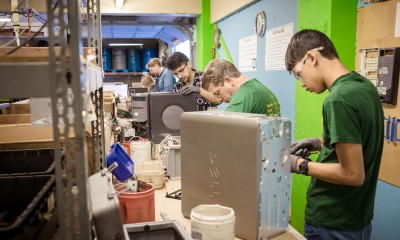 Donate time
Last year, our volunteers collected over 1 million pounds of e-waste. Want to learn how to build computers, save the environment from toxic e-waste, and transform the lives of people in your community? We have a place for you here at Free Geek!
Partner with us
Collaborating with partners helps us further our impact in the community. Your contribution can be as simple as spreading the word about Free Geek, or as sizable as co-creating programming with us.